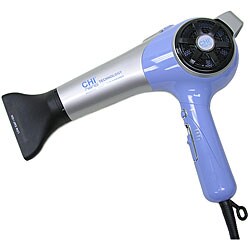 Chi Nano hairdryer. My favorite, but Boy Taylor (hubby) prefers a Solano. The Chi is a lot hotter and lighter weight, which is why I like it!
Volumactiv mousse gives a great blowout! It can be mixed with anything to control the volume level or hold.
My favorite product. It can even make course, dry hair feel silky soft and smooth
Ahh, the Chi Turbo. Much debated about, but for me, the only flat iron to use. It gets so hot, and the velvet on the outside allows me to curl with it (it smoothes the hair and you can touch the outside without giving yourself blisters!) I use this every day, all the time. Best thing ever!
1" and 1 1/4" curling irons are a must. I like to wrap the hair around the outside of the iron instead of clamping it in for a more natural curl.
This Shu Uemura brush is amazing. It is like a Mason Pearson brush, but with more surface space, and it is cheaper! It will still cost you around $75, but it is so worth it. They are limited edition, but we still have a few left at Dead Swanky, I believe.
Chi 2" round brush. Love it!
The best teasing comb, in my opinion!
Dry shampoo for prolonging your blowout a day or two (I am always doing this) and for times you need a little extra lift. I know that for you brunettes and redheads, this works but Bumble & Bumble makes dry shampoos in colors.
Hair elastics... love the clear elastics for braids across the front. For runway-smooth ponytails, bungee cords are the best!